Only a few left in stock - order soon.
Inflatable Car Mattress
Original price
$199.99
-
Original price
$199.99
In stock. Order in the next 1h 0m 0s and the product will be with you on Friday, 14 July
Easy 90 day return policy
Don't like it? No worries. We'll take it back for a full refund.
We assure you a secure checkout
Going out for a very long drive? This Inflatable Car Mattress will be a perfect companion for you! Perfectly designed to fit in the back seat of your car allowing you to rest comfortably. You can lie down completely with your whole body stretched out. Use indoors, outdoors, or inside your car. Perfect for an overnight trip!
Durable Construction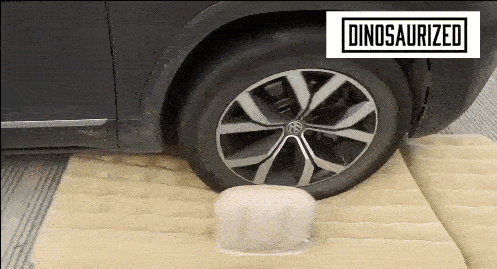 You will be able to rest well laying down on this inflatable mattress. It has a stable base which is very well balanced and will not easily slide. Made from top quality PVC material, which will stay durable for a long period of time. Its surface has a velvet feel which keeps you comfortable and warm during the night. It can withstand heavyweight and will not break or tear. This provides you with a comfortable place to rest and sleep in your car or even anywhere you are with its easy-and-fast-to-inflate feature.
Portable Design

It is not bulky when deflated and folded so you can totally bring this anywhere you will go. Use this indoors as an emergency extra mattress for guests, or outdoors for a picnic, camping, hiking, and long driving adventure. This serves you a nice and safe place to sleep than in your car seat. You can let it stay in your car inflated or deflate and fold it again after use. Super fast and convenient, giving you a solution for a place to rest.
Why Buy a Car Air Mattress?
Convenience and savings. Instead of splurging on a hotel room on your road trip, pull over and sleep at a rest stop. You can save money and get sufficient rest before getting back on the road. An air bed is also great for lunch break naps. 
Go camping. If you enjoy watching the sunset or just want to spend some romantic time with a significant other, you can spend time outdoors in comfort. With an inflatable car mattress/bed, you can take a nap after a hike or stargazing. 
Entertain the kids. Instead of getting cranky from the endless driving, your kids can fall sound asleep in the back seat. While at a rest stop, a minivan air mattress will allow them to stretch their arms and legs out.
Make your pet comfortable. If you're bringing your dogs along on a long road trip, an air mattress is a great idea to give them ample comfort to sleep. 
Move fragile furniture. The best car bed is multi-functional because you can sleep on it or lay it down in a pickup truck or SUV. This way, it becomes a cushion for fragile furniture or objects that you'd like to transport safely.
Key Features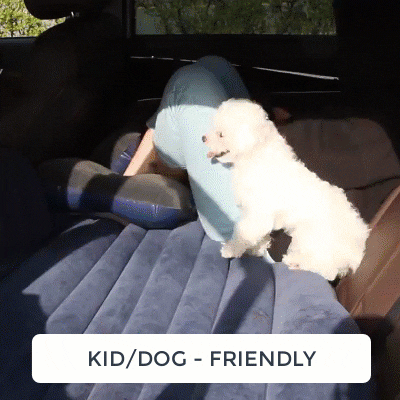 Cover
Most inflatable mattresses are made of synthetic plastic, which is slippery and may have an odor. Manufacturers use flocked materials to shield the user from the discomfort this may cause. You can opt for a mattress with a flocked top or even memory foam top if you're sensitive to the feel and smell of plastic or just want additional comfort.  
Pillows
When you are laying down to sleep in your back seat car bed, small pillows go a long way for added comfort. These are commonly included in air bed sets and are made of the same materials as the mattress. You'll want to cover the pillows with a sheet or cloth since they can be uncomfortable otherwise. 
12-Volt Air Pump
The pump is a critical piece of hardware to set up your air bed. The good news is that it's typically included in the all-in-one set. After you plug it into the vehicle's 12-volt outlet, it should take about two or three minutes to fully inflate the mattress. You always have the option of buying your own pump if you find that it inflates the mattress/ bed faster than the one added.