Only a few left in stock - order soon.
Halloween Ghost Face Scarecrow - Scarecrow Screaming Ghost
Original price
$119.99
-
Original price
$119.99
In stock. Order in the next 1h 0m 0s and the product will be with you on Friday, 14 July
Easy 90 day return policy
Don't like it? No worries. We'll take it back for a full refund.
We assure you a secure checkout
Are You Ready to Haunt Halloween?
If you're searching for a Halloween decoration that does more than just spook the birds, if you want to send shivers down the spines of your neighbors and create an eerie ambiance that lingers, then our Halloween Ghost Face Scarecrow  is your answer. This bone-chilling DIY scarecrow is designed to strike terror into the hearts of birds, deer, and anyone who crosses its path, including your unsuspecting neighbors. But it doesn't stop there; this terrifying apparition comes to life on Halloween night, casting an unsettling spell over your backyard. Crafted from eco-friendly and durable materials, it's the ultimate outdoor decoration, perfect for taking your Halloween decor to a spine-tingling new level. Get ready to steal the spotlight in the Halloween decoration contest and leave the public in awe.
Unearthly Terror
Unleash an unearthly terror with our Halloween Ghost Face Scarecrow. With its flowing robes, ghastly skulls, and chilling skeletal hands, it serves as the ultimate Halloween prop, ready to send shivers down the spines of your friends and visitors. This is more than just a decoration; it's an experience that will be etched in their memories.
Hauntingly Real
The secret to its eerie realism lies in its eco-friendly and long-lasting materials, which allow it to move and sway with the wind, mimicking the spectral appearance of a ghost. This lifelike motion sets it apart from traditional scarecrows, making it a standout decoration for your Halloween festivities.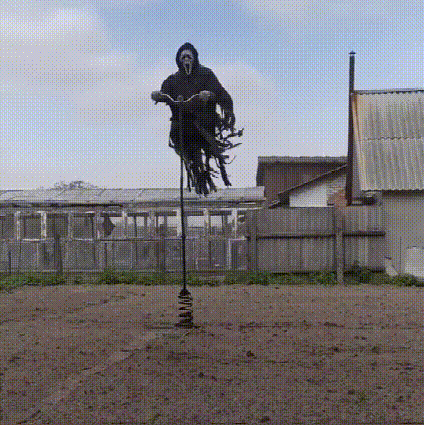 Adjustable Elegance
With a detachable scarecrow pole, you have the power to customize the height of your haunt. It's a practical feature that ensures the scarecrow fits your needs perfectly. When the haunting season is over, the scarecrow easily disassembles for convenient storage, saving you valuable space.