Only a few left in stock - order soon.
Helix Hummingbird Feeder - Bird Feeders Hanging Attracting Birds for Patio, Garden, Yard
Original price
$87.99
-
Original price
$109.99
In stock. Order in the next 1h 0m 0s and the product will be with you on Friday, 14 July
Easy 90 day return policy
Don't like it? No worries. We'll take it back for a full refund.
We assure you a secure checkout
Discover the Helix: Where Nature and Innovation Merge!
Unveil the beauty of the Helix Hummingbird Feeder, a marvel that captivates all ages, from children to grandparents and everyone in between. Experience the sheer delight of witnessing seed and nectar gracefully descend through our revolutionary helical feeders. These are not just feeders; they're a gateway to a mesmerizing avian spectacle.
Birds Stay Longer
Helix Hummingbird Feeder boasts 32 ports thoughtfully arranged in a helical design, mirroring the intricate patterns of nature's flower clusters. This innovative twist in design not only appeals to the birds' instincts but also invites them to linger, creating a truly enchanting display in your backyard.
Attracts More Birds
This introduces a dramatic design breakthrough with numerous ports neatly packed into a compact frame. Its captivating helical shape draws inspiration from the elegant strands of DNA. Adorned with red covers and yellow ports, it's a beacon for hummingbirds, making your garden a magnet for these mesmerizing creatures.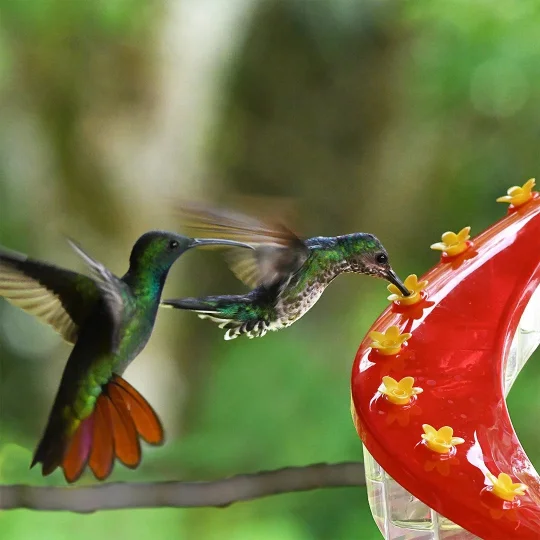 Easy to Fill and Clean
No more awkward, upside-down filling, no more mess – just effortless and quick maintenance. Watching nectar and seed cascade down to replenish all 32 ports (16 on each side) becomes an educational family activity, turning every refill into a moment of wonder. Hanging the feeders has never been more straightforward, thanks to the innovative design.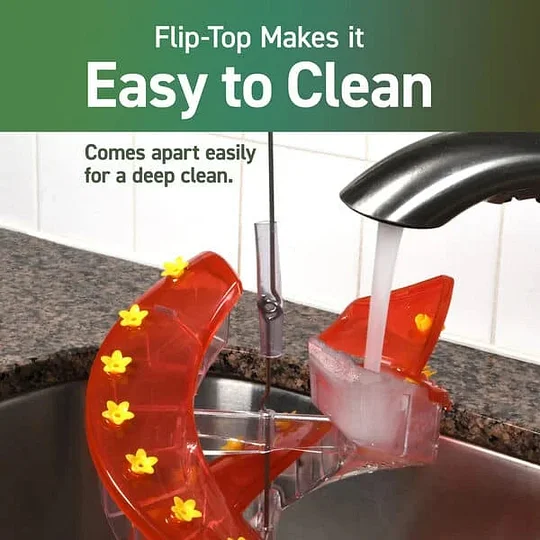 Specification:
Capacity: Holds 23.5 Fluid oz. of Nectar (11.75 oz. each side)
Dimension: 7.75" diameter by 11.75" tall
Inner box size for single helix: 28*15.5*9cm, 460g weight.
Inner box size for double helix: 28x15.5x15cm , 650g weight.
Package Includes:
1x Helix Hummingbird Feeder