Only a few left in stock - order soon.
Microwave Food Cover - Transparent High-temperature Resistant Plastic Cover
Original price
$43.99
-
Original price
$43.99
In stock. Order in the next 1h 0m 0s and the product will be with you on Friday, 14 July
Easy 90 day return policy
Don't like it? No worries. We'll take it back for a full refund.
We assure you a secure checkout
Tired of Microwave Messes?
Are you tired of dealing with messy microwave spills and the hassle of cleaning up afterward? Introducing Microwave Food Cover, the ultimate kitchen solution you've been waiting for!
Microwave Food Cover is your indispensable kitchen assistant, designed to simplify your cooking and reheating experiences while keeping your microwave and dishes in perfect condition.



Say Goodbye to Messy Microwaves



Microwave Food Cover is crafted from food-grade, BPA-free material, ensuring that your food remains uncontaminated by unwanted tastes. Unlike plastic covers, this innovative guard is eco-friendly, reducing the need for disposable wraps and minimizing waste. Say farewell to the constant movement of paper towels and flimsy wraps; Microwave Food Cover is here to revolutionize your kitchen.
A Kitchen Must-Have
Are you tired of cleaning up microwave splatters every time you cook or reheat a small meal? Our Microwave Food Cover is your kitchen's new best friend. Its transparency allows you to keep an eye on your food as it heats, and the built-in ventilation system effectively vents steam, preventing messy spills. Cleaning up is a breeze, making your kitchen experience more enjoyable and stress-free.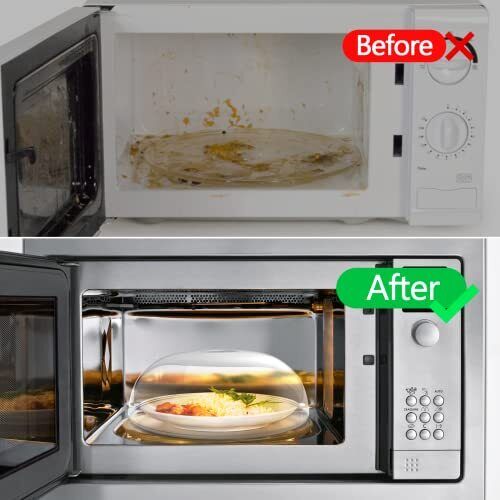 Your Microwave Spotless
With Microwave Food Cover, you can finally keep your microwave oven clean effortlessly. The adjustable steam vents and secure handle design ensure that no mess escapes, leaving your microwave spotless after every use. Enjoy your Saturdays without the burden of unnecessary cleaning tasks. Its generous dimensions (11.5x11.5x4.5 inches) accommodate standard dinner plates of various sizes, from 5 to 10 inches. The internal dimensions measure 10.5 x 10.2 inches, providing a perfect fit for your dishes.