Only a few left in stock - order soon.
Vintage Peanut Butter Grinder - Household Electric Peanut Butter Maker Machine
Original price
$115.99
-
Original price
$115.99
In stock. Order in the next 1h 0m 0s and the product will be with you on Friday, 14 July
Easy 90 day return policy
Don't like it? No worries. We'll take it back for a full refund.
We assure you a secure checkout
Unlock the Power of Homemade Nut Creations
Do you crave the rich and wholesome goodness of freshly ground nuts? Are you tired of store-bought spreads filled with additives and preservatives? Discover Vintage Peanut Butter Grinder, the revolutionary nut grinder that empowers you to craft your own delicious creations in the comfort of your kitchen.
DIY Making
Embrace your inner chef and customize your nut butter to perfection. With Vintage Peanut Butter Grinder, you can add fresh ingredients like honey, chocolate, sugar substitutes, or any flavors that tickle your taste buds, all while effortlessly grinding your favorite nuts. No more compromises on taste or ingredients - it's all in your hands.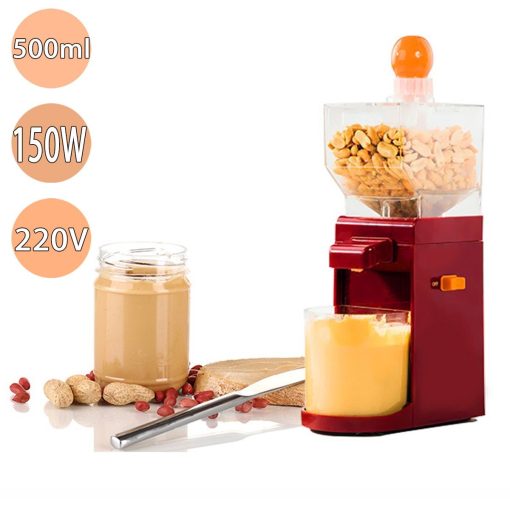 Easy to Operate
Gone are the days of complex and time-consuming food processors. It is designed for simplicity. Just place your nuts in the grinder and press the switch button. In a matter of seconds, you'll have a variety of healthy, homemade spreads ready to savor. No more hassle; just easy, enjoyable nut grinding.
Food Preservation
Your homemade nut creations can now last longer than ever. After using Vintage Peanut Butter Grinder, storing your delectable spreads is a breeze. Pop them in the refrigerator, and enjoy the peace of mind knowing they'll stay fresh for up to two months. Say goodbye to frequent trips to the store; it offers convenience without compromise.
Specification:
Size: 16.5*26.5*10cm
Weight: 1.3kg
Idling Power: 70W
Load Power: 150W
Idling torque: 30-40 millimeters
Load torque: 70 millimeters
Package Includes:
1x Vintage Peanut Butter Grinder