Only a few left in stock - order soon.
Wearable Acupressure Headache Relief - Supporting Acupressure Relaxation, Stress Alleviation and Tension Relief
Original price
$23.99
-
Original price
$23.99
In stock. Order in the next 1h 0m 0s and the product will be with you on Friday, 14 July
Easy 90 day return policy
Don't like it? No worries. We'll take it back for a full refund.
We assure you a secure checkout
Say Goodbye to Pain, Headache, and Anxiety. Discover the Power of Acupressure!
Are you tired of dealing with constant pain, nagging headaches, and overwhelming anxiety? Discover the revolutionary solution to these problems with our Wearable Acupressure Headache Relief! This remarkable healthcare wearable is designed to provide natural and effective relief from pain, reduce finger arthritis, and promote your overall well-being. Say goodbye to discomfort and embrace a life of comfort and vitality.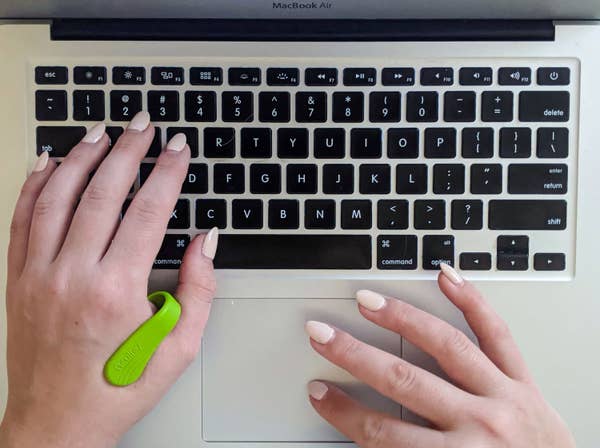 Experience Pain Relief Like Never Before
It utilizes the time-tested technique of acupressure, which has been used for thousands of years to enhance overall health. This hand-held device is built with a patent-pending design that precisely targets the inside forefinger metacarpal, providing an unobtrusive fit. Its powerful acupressure technology stimulates key pressure points, effectively relieving headaches and migraines. No need for invasive treatments or medications – simply let the acupressure do its magic and experience the difference.
Alleviate Finger Arthritis and Chronic Pain
Bid farewell to the discomfort of finger arthritis and chronic pain with our Wearable Acupressure Headache Relief. By sliding comfortably onto your finger, this wearable device offers a soothing massage experience that targets and alleviates pain in various parts of your body. It is perfect for long-term use and can be easily worn during your daily activities. Improve your overall health and mobility with a simple yet effective solution.
Holistic Wisdom from Acupressure Specialists
Crafted with insights from the world's most renowned acupressure specialists, it represents the culmination of holistic wisdom and cutting-edge technology. This device is not only effective but also safe and non-pharmacological. Embrace a natural approach to pain relief and well-being.
Specification:
Material: Silicone
Length: 5cm/1.97in